Listen Now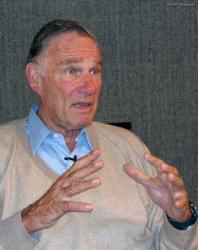 Corporations now are so powerful they threaten both democracy and capitalism itself says, Robert A.G. Monks. This true capitalist-insider is the world's leading shareholder activist and author of Corpocracy. The U.S. government is so dominated by CEOs and Business Roundtable companies, he says, we've corporatized even our most fundamental decisions as citizens – when we will kill and risk being killed.

Mr. Monks passionately believes restoring a balance in the U.S. starts with a simple but vital legal notion -- "trust", as central to our economic and political system as it is to our society, he says – paired with shareholder activism. For too long, investors in a position of trust passively – or actively – have permitted out-of-control CEOs and Business Roundtable companies to act in their own self-interest at the expense of us all.

"The majority of shares of American companies are owned in trust for a hundred million Americans. (About two-thirds of the public outstanding investments are held by banks, mutual funds and pension funds, trustees all.) The legal notion of a trust is quite simply stated. You appoint me a trustee of Paula. When I accept that trust, I owe Paula an absolutely overpowering obligation, uniquely and solely, to take care of her affairs. I cannot take any step in my own interest that is contrary to Paula's interest.

"Yet, the notion of 'trust' has been superceded by an economic notion: cost-effectiveness, a doctrine in economics. Economics has a beguiling characteristic that if you suspend disbelief and assume you can make a number out of values, you can put them into formula, run them into computers and out with a good answer. Well, wrong! All the important questions – things like 'Is it the right thing to do? On balance, is it fair?' -- are not susceptible of being quantified. Can a trust be 'cost-effective'? It has nothing to do with being cost-effective!

"And now, there are courts that have said in a sense, 'Obey the law if it's cost-effective.' Having 'cost-effective economics' dominate the very very necessary soul of trust has gotten us where we are and we have to take it back."

How? "You don't need any new laws, any new bureaucracy or any new taxes!" He points out how the Security and Exchange Commission (mutual funds), the Department of Labor (pension funds) and the Federal Reserve (bank trusts) already are responsible for requiring trusts to act on behalf of their beneficiaries, and therefore on behalf of the larger society.

"If I'm going to be a good trustee for a pensioner who has 20 more years to work, I'm not doing the job if I just make him money. I have to run the trust property so that he retires into a clean world, into a law abiding world, into a civil world. So I have a fiduciary duty that you can describe quite accurately -- I have the obligation to manage the assets of the trust so that they are sustainable.

"Unless and until we get the full spectrum of ownership participation, the owner agenda will necessarily be suspect and the utility of involved ownership as a mechanism to produce a holistic capitalism will not be realized."
Is there a role for the citizens who are currently shut out of the process?
"The people who run corporations are not bad people, it's just they make up rules that are most in their self-interests. It's up to us to get those rules changed, and you can, if you start to convince the trustees that they must be responsive to their beneficiaries. What can you do? The mind boggles! Go to any organization of which you're a member, there are probably four or five groups you're associated with -- the university you attended, churches of which you're a member. Talk to the Trustees. Find out about the endowment. Who runs it? They can go to the people who run corporations and say, 'Do something about this!'"

Acknowledgments

The first step in reclaiming democracy from today's corporatists is to recognize "corpocracy" for what it is – a real and present danger to democracy. We are immensely grateful to Mr. Monks for clearly articulating where we are, for identifying solutions already at hand, for fearlessly doing his part and for giving us the opportunity for the rest of us to do ours.
Whatever your position in life, we're all part of what Mr. Monks calls "the world's greatest wealth machine". As he makes plain, we already have in place the laws, regulations and "players" to reign in CEOs and Business Roundtable corporations. "Trust" can -- and must -- be restored by those already where we need them to be. Find out about the endowments at your school, college, university, civic or religious institutions and pension fund. Talk to the Trustees, they're the people running the money for the institution. Ask them what they are doing about inappropriate corporate actions and CEO greed. The common-wealth can reclaim its rightful place as a counter-force to individual greed if Trustees do their duty -- to act on behalf of beneficiaries including you, your institution and the future we are creating together.

Related Links

Corpocracy: How CEOs and the Business Roundtable Hijacked the World's Greatest Wealth Machine -- And How to Get It Back is published by Wiley in the U.S. and the U.K. Wiley also published Mr. Monks' and Nell Minow's Corporate Governance and Watching the Watchers. Mr. Monks' novel, Reel and Rout, is published by Brook Street Press and The Emperor's Nightingale: Restoring the Integrity of the Corporation in the Age of Shareholder Activism is published by Basic Books.

Robert Monks' commentary is available here. More background information is here.

Our initial conversation with Mr. Monks was recorded in 1998.

Among the organizations Mr. Monks has helped create are: LENS, Hermes Asset Management, and The Corporate Library.

The full text of the Powell Memo referred to in Part 5 of this conversation.

Kevin Phillips has examined the pernicious relationship in America among corporations, money and politics in several books.

Thom Hartmann examined the history and impact of the displacement of personal rights by corporate rights in Unequal Protection: The Rise of Corporate Dominance and the Theft of Human Rights.

Three of our guests have written historical biographies of men who helped define the roles of corporations in American life and politics: David Cannadine (Andrew Mellon), David Nasaw (Andrew Carnegie) and Ron Chernow (John D. Rockefeller).

John Dean has examined in detailed the cumulative effects of corpocracy and fundamentalism on American government.

Ray Anderson (founder and chairman of Interface) has committed his company to sustainability as part of what he calls the Second Industrial Revolution.

Joseph Finder has literally found a "novel" way to examine what goes on in corporations. He writes fiction set in corporate environments.

Jerry Greenfield (co-founder of Ben & Jerry's Ice Cream) offers a different model for how businesses should operate.

... and, here's a little background information on Paula Gordon and Bill Russell, the Program co-hosts.

This Program was recorded on
Thursday, October 18, 2007

in Atlanta, Georgia, US
Tags: Corpocracy fiduciary fourth branch of government Kleptocracy ownership public corporations Robert Monks stockholders