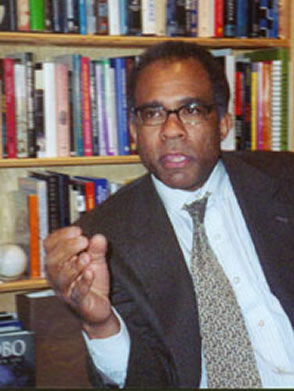 Randall Kennedy
. . . legal scholar. Randall Kennedy is a professor at the Harvard Law School. His books include Interracial Intimacies: Sex, Marriage, Identity, and Adoption, Race, Crime and the Law and Nigger: The Strange Career of a Troublesome Word. With an undergraduate degree from Princeton and a law degree from Yale, he was a Rhodes Scholar and served as a law clerk to Supreme Court Justice Thurgood Marshall.

3:29
Arbitrary racial barriers should not be impediments to Americans of all backgrounds living together in a neighborly fashion, legal scholar Randall Kennedy believes. He is eager to create a society where healthy affection can bloom in all aspects of life, regardless of race. So this Harvard Law School professor used his own expertise to forward that cause. In his indepth and thorough book Interracial Intimacies, he focuses particularly on sex, marriage, identity and adoption. And in addition to his own views, he offers opposing ones on a range of contentious issues inside the American legal system and across time.

Randall Kennedy minces no words -- he's opposed to what he calls racial idolatry and racial authoritarianism. And Randall Kennedy is colorblind in that opposition. Kids growing up without parents because of race-based policies particularly trouble Mr. Kennedy. He reports that a National Association of Black Social Workers's manifesto (asserting that the adoption of a Black child by White people is tantamount to cultural genocide) haunts adoption in the U.S., chilling interracial adoptions. Legions of kids are now bounced around in short-term foster care or are growing up in institutions. This is America's problem, not a problem for either the Black or White community. And, he says, America can solve this problem. How? Place children in loving homes as quickly as we can. Kids need parents, change is inevitable and we must learn to maximize our imagination, Mr. Kennedy believes.

He applies the same conclusion to adults. We all need companions. Why restrict oneself to a single race, Mr. Kennedy wonders? He's convinced that it's self-defeating not to take advantage of what's around us, specifically counseling Black women including his daughter to look beyond color for healthy relationships.

America has been "multi-racial" from its beginning, Mr. Kennedy reminds us. But we've denied and repressed that reality. Instead, we've sought short-cuts to deep and complicated issues about intimate relationships, he believes. This is a subject with many layers and Mr. Kennedy has addressed the one that is today's law in the context of legal history. He also urges Americans to look forward to a time when people of all colors choose to have a common market for friendship and camaraderie where they live and work, as well as romance, open themselves to the widest set of possibilities available.

Randall Kennedy is optimistic as he encourages people to mix and match and learn from each other. He's certain that doing just that is what has made America an exciting and glorious nation. Mr. Kennedy reminds us of the importance of trusting relationships as he urges people to embrace America's rich cultural gumbo. And with healthy affection, Randall Kennedy also calls us to embrace each other.

[This Program was recorded February 17, 2003, in Atlanta, Georgia, US.]