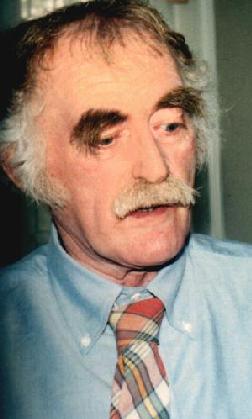 Donald McCaig
. . . is a writer who moved with his wife, Anne, from New York City to Virginia in the early 1970's. They became sheep farmers and in the process they also became Virginians. In addition to the Civil War historical fiction Jacob's Ladder, Mr. McCaig has written three other novels, plus entertainments, nonfiction, and poetry. The McCaigs and their Border Collies continue to work a sheep farm in the western mountains of Virginia

3:22 secs
Winners name wars, so America's War of Rebellion turned into the Civil War. And a terrifying time it was, Donald McCaig learned in the six years he spent researching letters, diaries, archives and landmarks for his historical novel, Jacob's Ladder. How does a Montana lad who lived for years in New York City write a Southern Civil War novel? By getting to know the neighbors.
Don and his poet-wife, Anne, moved to Virginia in the early 1970s, where they sheep farm to this day. Without even trying, they became Virginians. It slowly dawned on Don that had he lived in Virginia in the 1860's, he and his neighbors would have banded together and marched off into battle, just as Virginians did then. He was so intrigued he wrote Jacob's Ladder from the perspective of the South, but this time, he told a bigger story than we usually hear -- he gave voice to both whites and black, slaves and those who owned them.
McCaig believes the Civil War made us Americans. For decades after the War, former Confederate and Union soldiers in the West as well as the South and North continued to play out their anger and frustrations about the way the War was conducted. (And, by the way, McCaig has no doubt about the strategic value of Sherman's March to the Sea. Zero. He believes it was revenge, pure and simple.) McCaig's confident that the questions which were left unresolved at the end of that War are with us still. "There but for the grace of God, go Iš tales abound. And haunting stories of the United States Colored Troops (USCT) -- virtually all of whom were run-away slaves -- enable McCaig to make tangible much of the carnage and terror of this very American experience.
Racism was undeniably rampant in both the South and the North before, during and after the Civil War, McCaig assures us. But he attributes much of the tremendous rage expressed during the War itself and the post-Civil War evils of Southern segregation to the moral and spiritual mistake of slaveholders. Many felt personally betrayed when slaves chose freedom, shattering the enforced intimacy of slavery. In fact, McCaig believes the institution was so strong that had the Civil War not ended it, he's confident slavery would have continued for decades more. It took one hundred additional years and another social upheaval before the descendants of slaves who were declared free became free.
Why the current bounty of Civil War books?  Oddly enough, McCaig again credits the Civil Rights Movement of the 1960's. He believes it liberated Americans of all persuasions finally to talk openly about our past, neither to defend nor to deny our heritage. He thinks that exchange is a vital step for moving forward, out of our tragic past. There's a lot to be said for ventilation.